24/10/19
If you're thinking of selling your power boat or sailing yacht but are holding back because you aren't sure what's involved, or if you are simply curious as to how we get your boat from it's mooring to money-in-your-bank, we wanted to put together a guide to show you just how easy it can be to list your vessel for sale with One Marine.
At One Marine Brokerage in Torquay we provide a premium and personal service tailored to you. Navigating the online world of boat sales can be frustrating, with multiple platforms, private versus trade sales, inconsistent listings and let's not even get into the paperwork yet. We try to remove all the confusion and make listing your boat for sale a smooth and hassle free process. So you can sit back with your feet up and breathe a sigh of relief as we handle everything from initial photoshoot to enquiries, viewings, negotiation and post-sale paperwork.
You'll see from our website we produce exemplary listings, with high quality imagery which takes understanding of each vessel, extra time and care to produce and it is this which helps your vessel stand out in the competitive retail environment.
Can we list your boat?

So you've thought about it for a while, and you've decided to take the plunge and put your boat up for sale. It doesn't matter why, we don't judge, whether you're upgrading, downsizing or quitting the game altogether. Whether you are looking to buy a boat from us, whether you are purchasing elsewhere or simply unlocking funds from your asset. If you want it sold, that's what we do.
You like the look of the lovely people at One Marine and would like them to begin the process. But do you have the right boat? Is my boat too old? Too new? Too mainstream? Too specialist? Too big? Too small? Too far away? What if I have a sailboat?
Simply, your boat cannot be 'too' anything. But let us explore a bit further just so you're confident we can list your vessel.
Too old – We usually sell boats dating from 1990 to present day
Too new – We can sell your boat even if you bought it yesterday
Too mainstream – As far as we're concerned there is no such thing as too mainstream, we retail all kinds of manufacturers, Sealine, Fairline, Sea Ray, Bavaria, Bayliner, Cranchi, Beneteau, Jeanneau, Quicksilver, Monterey, Princess, Sunseeker, you name it, we'll list it.
Too specialist – If you have a very specialist vessel, you might find success through owners forums or a specialist dealer, but we advertise your boat to everybody, and we think it's a great idea to put your vessel in front of the widest audience possible. You never know who's out there looking for boats like yours!
Too big – Certainly not, One Marine is a specialist branch of Sunseeker Torquay. This means we are used to selling big boats! And all the details & know-how that is required to do so.
Too small – No way! If you have a little boat, in lovely condition, with correct paperwork (we'll get on to that bit) of course we will list for you! We sell everything from Jet Tenders and RIBS all the way to super yachts and everything in between.
Too far away – We sell most of boats from Exeter, Exmouth, Topsham, Dawlish, Teignmouth, Torquay, Torbay, Paignton, Brixham, Dartmouth, Kingswear and Salcombe, Kingsbridge and Plymouth. But if you don't live in Devon, that's okay too. You'll see from our website that while a good portion of our listings are local, we can retail any boat from any where, that is the beauty of online marketing. We'll make a special arrangement with you as a 'distance' listing, and we sometimes need a little extra help from you. But we can work together on this and make sure you as the seller are rewarded for that extra input. This guide is aimed at local sellers but most of the process is the same, read on and get in touch if you're further away we'll work with you to get the best listing possible for your boat.
What if I have a sailboat? – That's great news! We don't only sell motor yachts. Have you met our broker Jamie? His extensive knowledge and experience of Sailing makes a great combination for the Sailor looking to move on his yacht through an experienced sailing broker.
What paperwork will you need to see?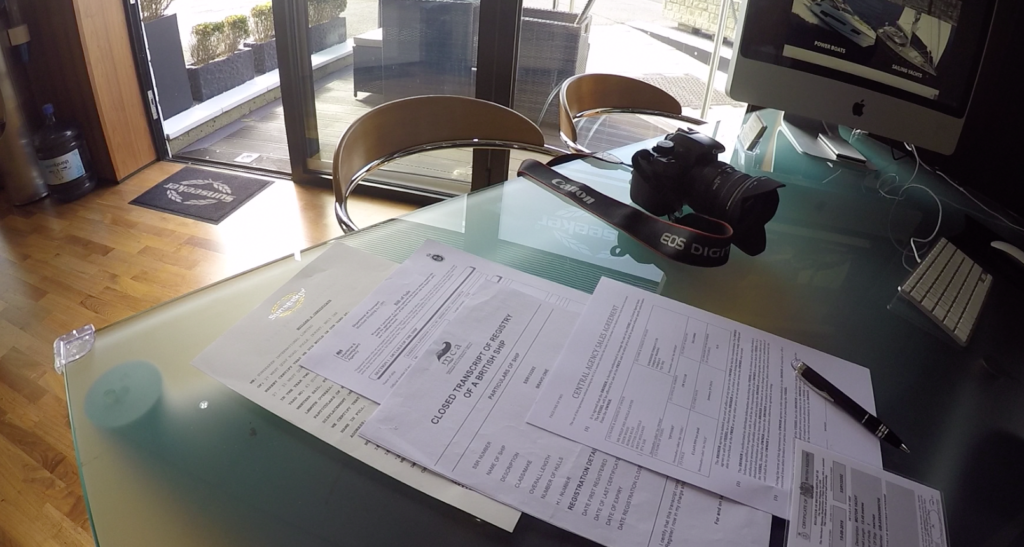 At One Marine, we like to do things properly. So this bit can be a bit tricky, as there can be much inconsistency across boat paperwork not only in the UK but in European countries as well.
Our contracts are all based on the Mediterranean Yacht Brokers Association standard, which protects buyers and sellers equally across the sale of boats. All our sales are overseen by our in-house lawyer and this really enhances the value of your choice to broker your boat with us. Gone are the days of writing a cheque or a hand written receipts, we make sure our brokerage sales are iron clad and in order to do that we will need to see the below.
What we need to see:
– Proof of ownership for the last 5 years. (In the UK this is usually the Bill of Sale historically)
– Proof of VAT status. (Usually this is the original invoice for the boat which states the VAT paid on the vessel, but we have seen other forms too)
Of course we love paperwork, and the more the merrier, this includes, logbooks, handbooks, Builders certificates and servicing and repair history, SSR registry if applicable, etc.
We will also need to prove who you are, we will take Passport ID and a current Utility Bill before completing a sale for both the Buyer and the Seller, again this protects both parties in a brokerage sale.
Still not sure? Get in touch and we can talk you through what we need, or better still pop in to the office with your 'boat folder' and we'll take a look!
Strike a pose!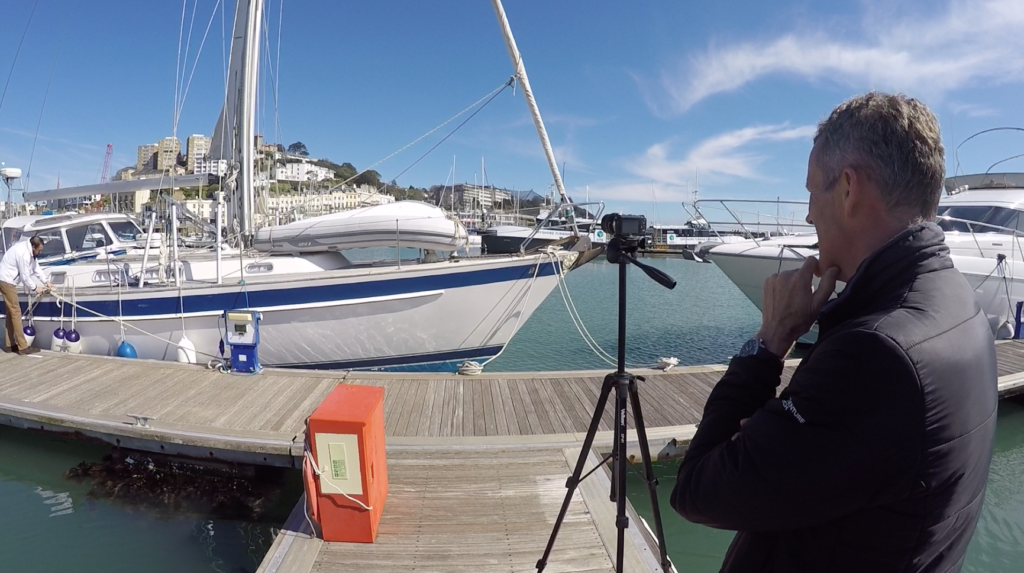 So now we have the boring paperwork part all covered, now for the good bit! As part of our marketing plan for your boat, we will conduct a full professional photoshoot for each vessel individually.
In an online retail environment we know that the imagery is king, we understand that buyers, will rarely get in touch if your boats photo gallery is not both flawless and extensive. Thats why we focus heavily on creating listings that are not only loaded with information but also that are visually beautiful for prospective buyers.
Photoshoots take time, and this can mean hours for bigger boats not minutes. We use professional wide-angle cameras to demonstrate the space available on your boat correctly and provide potential buyers with an extensive image gallery to encourage them to visit in person. All our images are high resolution and designed to be viewed on a full device screen, either desktop or mobile. Our own website will automatically encourage them the be viewed in this format too, creating an easy 'swappable' show-reel. In the comfort of their own home your buyers will get an a true insight to your vessel through its images and the more they like the look of, the more likely they are to come aboard.
We like to shoot boats with the least amount of personal items on show. We understand that your boat can become and extension of your home and that you as the owner will have personal items on board to make you feel at ease every time you get on board. However, from the prospective buyers angle, it is better to see each boat as 'item' free as possible, this way when browsing they can begin to imagine their own personal affects in place and see all usable surfaces, lockers, sleeping space and more. This was a buyer can more easily see if your boat will work for their needs too.
You'll notice on our website that all of our boats have a 'Hero' image. This is the main picture on their listing. This should be a full side or 3/4 view of your boat on the water, either on her mooring or ideally away from other vessels. Think of this as your 'overview' shot. It's super important we get this right, first impressions count, and this is the first glimpse of your boat a buyer gets. And this is the only opportunity we have to encourage them to click further and read the full advert, on each of the platforms we advertise your boat on.
Creating your boats listing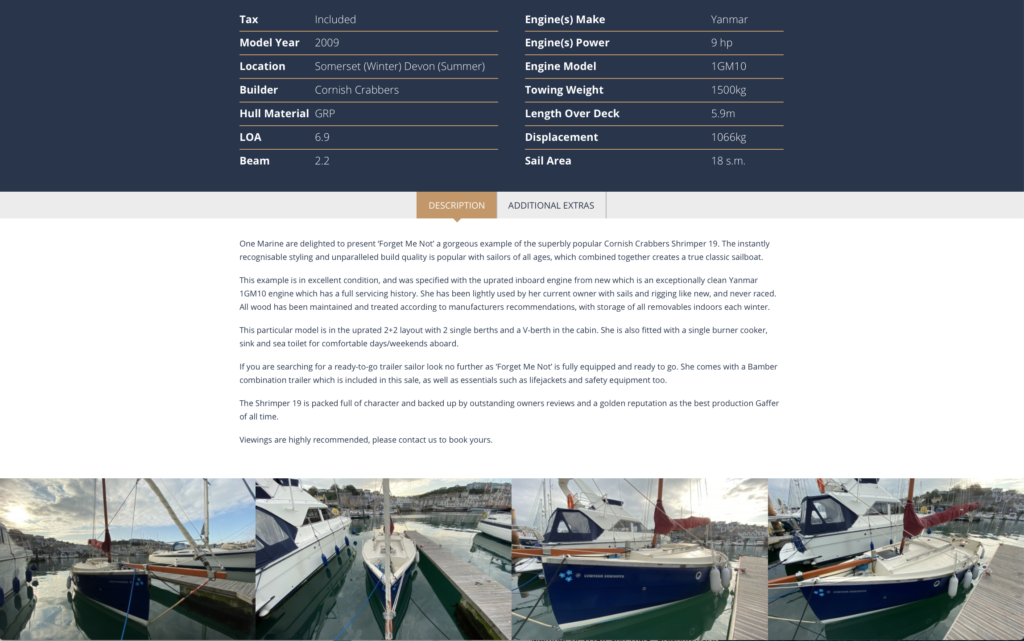 Once the imagery is spot on, we move to the next stage of marketing your boat which involves creating an engaging listing that will encourage potential buyers to get in touch. Arguably with the shift to online browsing this is one of the critical elements to get right, and we take a little extra time and care to ensure this is done properly.
We want to know everything! In our consultation, we will need to know as much as you can tell us about your boat. From personal ownership and opinions, to the facts and a full inventory of exactly what is on board and included in your sale.
We will then create a personalised written description of each boat, alongside a comprehensive inventory so buyers know what to expect from the purchase. Features are important here, the more we can shout about, the more chance we have to sell. So don't be shy and help us shout about how great your boat actually is!
Our listing will be created on our website and a link emailed to yourself for review, we welcome revisions and suggestions as occasionally you will think of something we have missed. This way your boat is represented in a way you are happy with, with our professional touches to finish the advertisement off.
Once happy, this is pushed out to all marketing channels and we begin working through the plan. All our boats are listed on the following sites which we have narrowed down as the greatest chance of making a sale on the UK and European Market.
Our Website | RightBoat | YachtWorld | YachtMarket |Boats.com | YBW.com
Social Media
Whether you're an avid user or not, its undeniable the impact social media has had on the selling world, and this is beginning to translate to boats also. In order to stay ahead of the curve One Marine are active across several platforms to give you as the buyer even more exposure. We will advertise your boat across:
One Marine Facebook Page | Facebook Market Place | Instagram
Our social media sites, make it easy for you to share your listing with families and friends, so log on, like or follow us and see your listing come alive on the social web.
Newsletter
We produce a monthly newsletter which goes out to our email database of users who have chosen to receive communications from us. New listings are featured heavily including any other news or events we have been involved with as a brokerage.
We have chosen not to bombard users with constant nuisance emails, we all have enough of those, instead the comprehensive newsletter is produced once a month for prospective buyers. We aren't pushy or over communicative, which in our experience can turn prospective buyers off.
Feel free to sign up yourself and see what the next one looks like.
Marina Advertising

You'll notice our office is located on Torquay Marina. Situated between the town moorings and the private MDL Torquay marina too. We get a high volume of passing traffic of boat owners and enthusiasts past our office daily, so we are in the prime position for advertising locally. Remember we are the only on-site brokers in Torquay.
We display printed adverts in our windows to catch the eyes of passing trade, which is where your 'Hero' image will really come into focus.
If your boat is on the marina, we are also allowed to display our own 'for sale' boards on your vessel if you choose, which is important for passers by, you never know who is walking past your boat day to day!
We will try every possible avenue to ensure your boat has the best exposure and the greatest chance of reaching buyers in todays modern market. Our formula is tried and tested and we have hundred of happy sellers to show for it. All you need to do is get in touch to get the ball rolling!
Getting that initial enquiry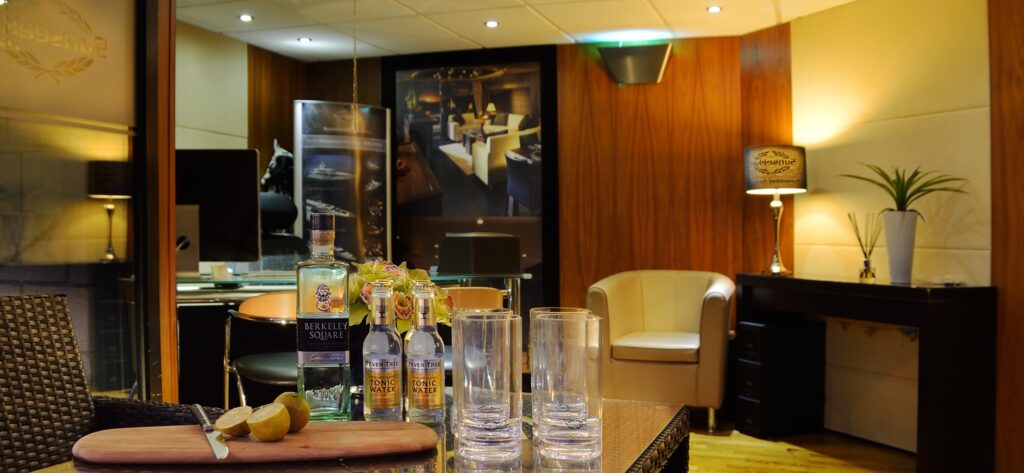 Part of our promise to you is to handle all enquiries on your boat. Whether they come through via telephone, email, website contact boxes, 3rd party sites, social media, WhatsApp or text.
We try to ensure there are no barriers for potential buyers to contact us and make an enquiry. This is why we have over 10 different ways that a buyer can get in touch. In the ever evolving instant world, with multiple contact platforms, we carry mobiles everyday to link us the brokers directly to your potential buyer.
We feel it is important to keep you up to date with the enquiry level on your vessel and as such when they come through, we will let you know, this way we can keep on top of how interested people are and make judgements accordingly if we need to tweak your advertisement while it's live.
Our goal for each enquiry is to get that potential buyer on board your boat for a visit. We like to believe we are friendly, knowledgable and personable for each client that calls and like to make that first impression count. Confidence in your broker is just as important for the buyer and it is for the seller and we aim to deliver every time we answer a question.
Let's get viewing!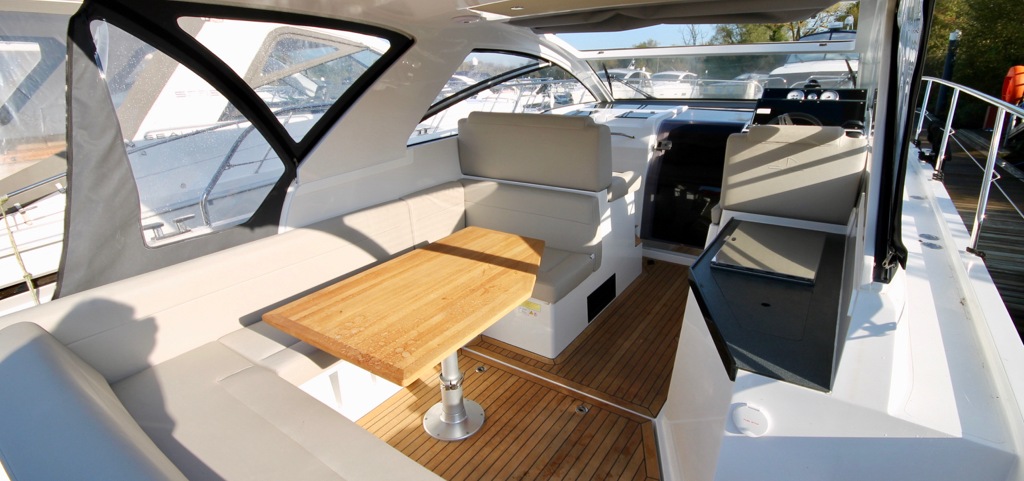 This is the time where your boat really gets to shine. When potential buyers come aboard it's the one chance we really have to help your buyer fall in love with your vessel.
At One Marine our viewings are conducted personally with a broker accompanying any viewers around your boat. A good viewing can take anything from 30 minutes to several hours in order to feel thoroughly familiar with a vessel. This time aboard builds a sense of ownership and allows each viewer to understand your boats features in person.
Viewings are conducted by appointment only, we believe a real buyer will be happy to stick by a time and date, so we do not accept on-the-hoof show-rounds and you as the owner will be advised every time we take someone on board.
We will not turn the key, play with electrics or start the engines for any viewing. We understand you might have maintenance work being carried out, and a sea trial is a job for a surveyor and not your broker. This also prevents people who have no intention of purchase, having a 'boat trip' on a nice boat under the premise of a viewing.
Trust us, we know how special your boat is and we promise to treat yours with the highest respect. Returning it to how we have found it each time, removing shoes indoors to protect carpets and leaving your personal property untouched. Keys will be returned to their designated safe place or dock office each and every time.
Occasionally, we have an enquiry who for an unforeseen reason loves a boat but is unable to view it in person. Of course we do not want to turn anybody away and limit the chances of reaching a sale for you. So, One Marine have developed the facility to provide personalised video walk arounds which can be sent directly to a prospective buyers email. Wherever they are in the world!
Negotiation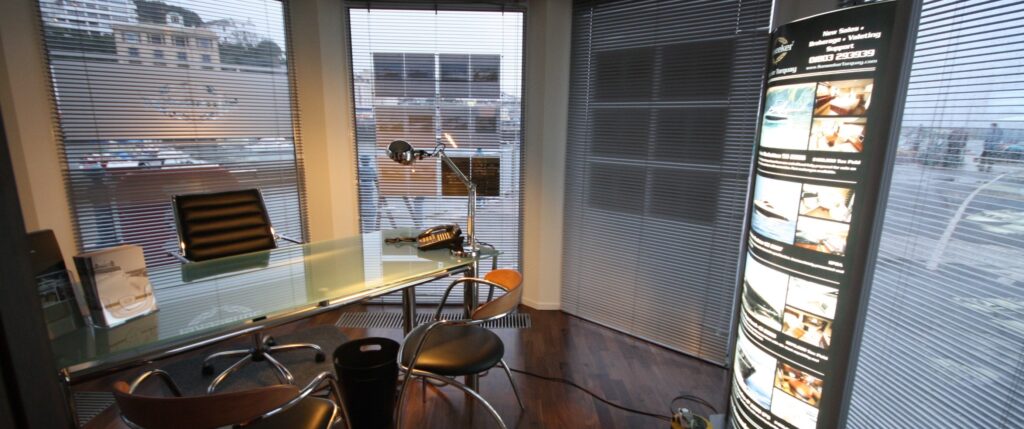 We work for primarily for you to get your required figure for your boat. We know of course that is is often the case a buyer will want to put forward a discounted offer to you to get themselves a little bit of a deal.
Our promise is to put forward all serious offers to you, and we will negotiate with the buyer. This saves you the stressful task of managing a sales negotiation yourself, and we will act as instructed by you in each and every case.
At the end of the day, our goals are the same. Our ultimate goal is a happy seller and happy buyer. We have years of experience in handling this process and help you every step of the way.
Once agreed we will take a 10% deposit from the buyer, in order to proceed to the next stage.
Sea Trial & Surveys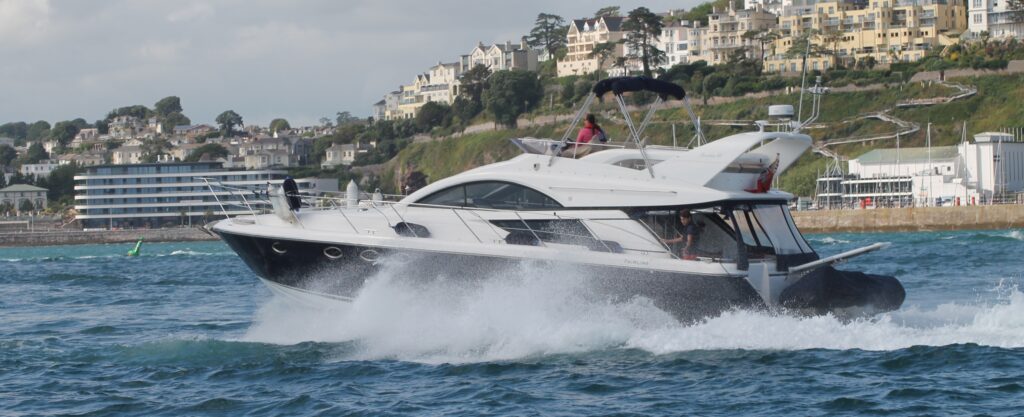 On successful completion of a negotiation, in most instances the agreed sum will be subject to an independent sea trial and survey conducted prior to conclusion of the sale.
A survey is similar to those conducted with houses. An independent surveyor will be instructed to produce a report on the condition of your boat, cosmetically, mechanically and electrically. This allows the buyer to head into boat ownership with a thorough assessment of the boat they have purchased.
The sea trial and survey will be paid for and instructed by the buyer, through their chosen surveyor within 2 weeks of agreeing a sale.
Your boat will need to be in the water for the sea trial phase and lifted or trailered for a full survey to be conducted. Don't worry about sorting all this, we can help arrange everything.
The idea of not paying the balance prior to a survey as you can see is to protect our buyers. As brokers we are not experts in the maintained condition of your vessel, and as we are selling boats up to 30 years old, the onus is on you the seller to be marketing a sea-worthy boat to the next owner.
Sometimes, a surveyor will pick up on an essential item which might need to be repaired or replaced before the boat can go to sea again. This is where we step in and help mediate the sale in this instance. To provide the best result for both the seller and the buyer.
Contracts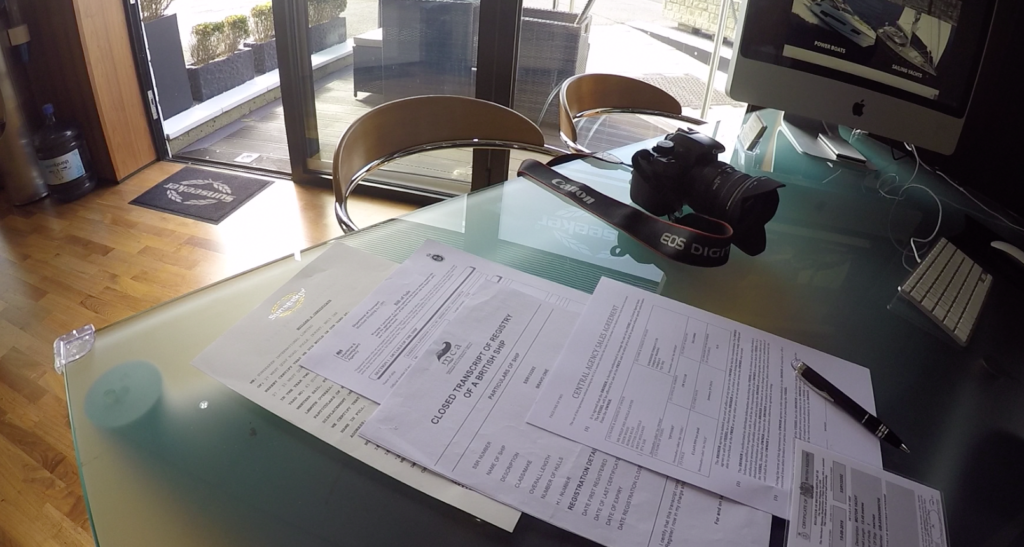 We said before, at One Marine we like to do things properly. So once we have taken a full balance we will draw up contracts in accordance with the Mediterranean Yacht Brokers Association standard, which will be legally checked and a few other handover documents to support the sale too.
You will both receive copies so you as the seller have a proof of sale. And we handle everything from our end.
The full balance deducting only agreed commission will then be transferred securely and straight to your chosen account. We understand that boats are a big purchase and because of this we use the most robust accounting system in the industry, for safety in the transfer of funds, seller account verifications and more. There are no hidden or added fees, and we don't take any payment until this stage of the sale is completed.
And that's it!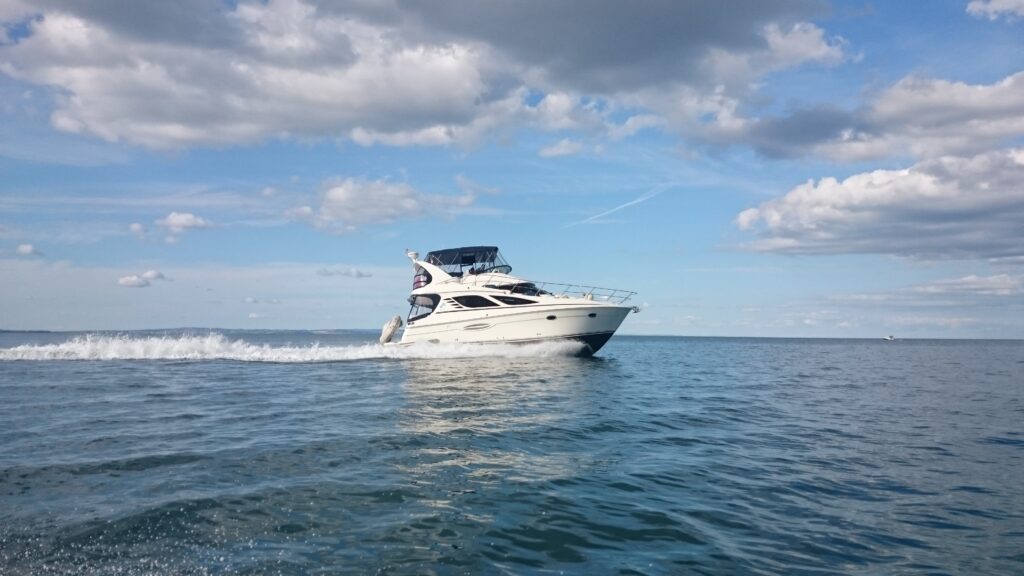 Paperwork, Photoshoot & Listing, Enquiries, Viewings, Negotiations, Sea Trials, Surveys and Contracts we look after it all. In a one stop service, from an experienced and professional team.
Ready to sell your boat?
If you like what you see and think One Marine are the brokers for you. Don't hesitate. Contact us now to begin your sale.
info@onemarine.co.uk | contact us | 01803 293939 | Facebook