DIFFERENTIATE AND CHARACTERISE THE LOOK AND FEEL OF YOUR NEW AXOPAR WITH A BRABUS LINE TRIM PACKAGE
Style-conscious customers can now differentiate and characterize the look and feel of a standard specification Axopar by ordering from our BRABUS Line Trim Package options, adding value with discreet interior & exterior trim & styling enhancements. Branding for the hulls features a BRABUS Line signature and a boat model designation plaque now finished in carbon fibre.
Customers opting for the BRABUS Line Trim Package with an Axopar 37 Sun-Top will also receive the same electrically operated sun-roof design derived from the BRABUS Shadow® project.
For 2020, the BRABUS Line Trim Package includes unique cockpit and cabin seat designs with diamond-stitch patterning, a suede-covered steering wheel and suede-covered co-pilot grab rail with discreet BRABUS logo branding. The exterior of the hull features black coloured rub-rails and all main exterior stainless-steel parts specific to each Axopar model (eg. hand-rails, light mast, T-Top / targa arch) will be finished in a matching black painted colour scheme.
01803 203800 | torquay@axoparlondongroup.com
The BRABUS Line Trim Package can be further enhanced by selecting one of our two exciting hull, deck & roof colours: Choose from vibrant and playful Miami Blue, or a more discreet Platinum Grey. The Colour Edition is a duo-tone colour package whereby specific parts of the boat are coloured and other parts are left uncoloured in standard delivery white.
Painted elements:
28 Open, 28 T-Top – Hull
28 Cabin – Hull & Cabin Roof
37 T-Top, 37 Sun-Top – Hull & Roof
37 Cabin, 37 Sports Cabin – Hull & Cabin Roof

01803 203800 | torquay@axoparlondongroup.com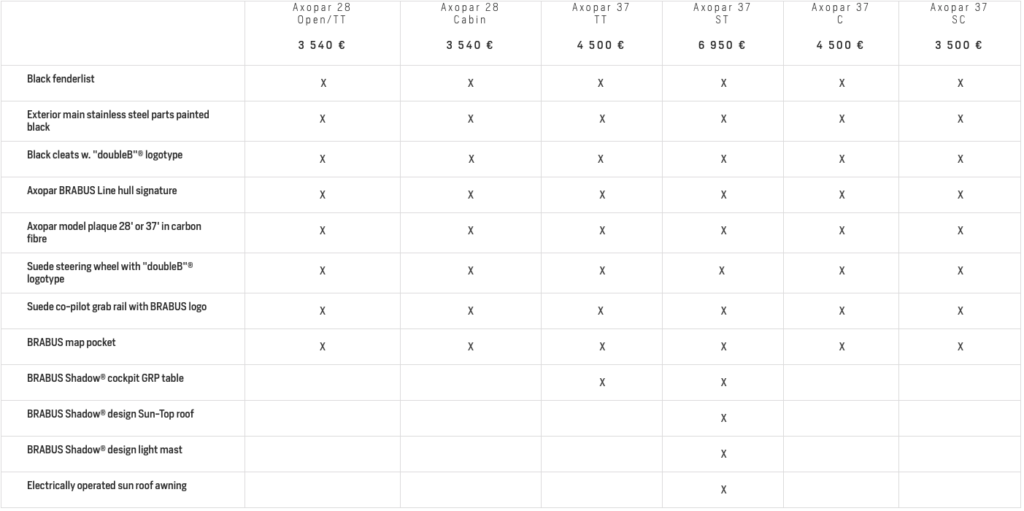 01803 203800 | torquay@axoparlondongroup.com